Apple and Google update their Operating Systems for exposure notification
Apple and Google Exposure Notification
The big news in the contact tracing world today is the news that Apple and Google have updated their operating systems with support for their common APIs for exposure notification. The iOS update version 13.5 is available today for iPhone users, while Android users on Android Marshmellow 6.0 and above will have access through a Google Play Services update.
The release got a fair amount of coverage in the press, with a number of summary articles such as these from news sites that follow Apple and Android.
For iPhone users, you can take a look at the new feature through Settings, but there isn't much you can do without having an app installed that supports the new API. You can go to Settings -> Privacy -> Health ->COVID-19 Exposure Logging.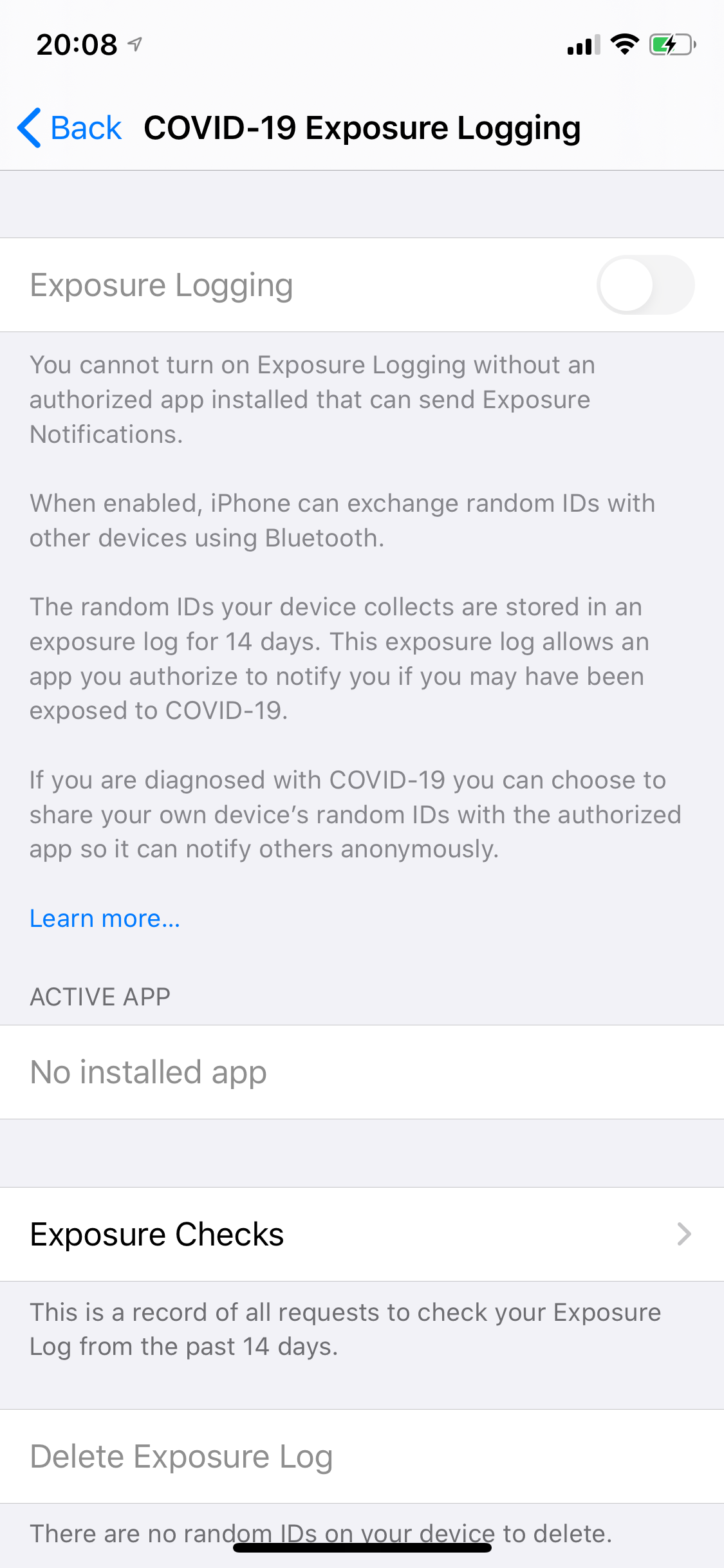 This screen is also available through the Privacy -> Bluetooth settings. However, without an app installed that uses the API, you cannot enable the exposure logging. We'll have to wait and see. According to Reuters:
Authorities in 23 countries across five continents have sought access to contact tracing technology from Apple Inc and Alphabet Inc's Google, the companies announced on Wednesday as they released the initial version of their system.
New Zealand Contact Tracing
In other news, the government of New Zealand released its app, which takes an interesting approach. Instead of using GPS or Bluetooth, this app uses a 'check-in' approach. Users are encouraged to scan QR codes on posters as they move around, which (we assume) will be placed at businesses and other locations around the country. If you test positive, you can then provide the list of locations where you have checked in to the health authorities. Rather than automatically trying to identify users who may have been exposed, this approach appears to be an attempt to simplify traditional manual contact tracing by health authorities and reduce the reliance on people remembering where they have been. It will be interesting to see if the uptake of this voluntary approach, especially with almost no cases being reported in New Zealand.
Help Collect Information
If you'd like to help compile information on contact tracing, exposure notification, and other technology being used to help battle COVID-19, hop over to our website and let us know if you can help.